United Steel Supply furnishes Galvalume®, galvanized, prepainted, and digital print patterned steel coils for metal roofing and siding applications to the agricultural, commercial, industrial and residential markets, both domestically and for export.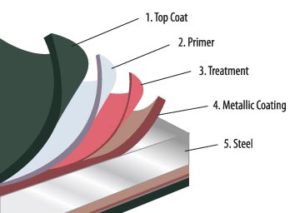 Our products are made of the highest quality steel, allowing our customers to maximize production efficiency and provide top-quality material and efficient yield to their final users.
United Steel Supply offers its coils in over 40 colors with color-matching capabilities to match your specific building project. We use three different types of paint coatings for our prepainted coils. These coatings include a polyester coating, a SMP Weather XL™ coating, and a Fluoropolymer paint coating.